Loading...
Destination Otranto
Select your preferred destination on the map of Puglia or search for the area or location. Discover what you can visit during you exit holiday.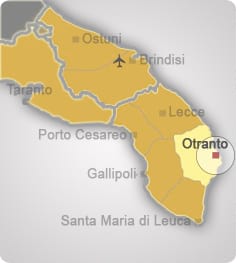 It gave its name to all of Salento, the Terra d `Otranto. And this is enough to indicate the importance of this beautiful city that separates the Adriatic Sea from the Ionian, with its enchanting old town that stands on the sea and from whose ancient walls the inhabitants try to strenuously defend their city and their land .
Visiting and enjoying the Otranto area is a must during holidays in Puglia, for those who love history, architectural beauties, sacred art, the sea and the nature that give uncontaminated breathtaking scenery of rare beauty, like the former quarry of bauxite, the coast of Orte, Torre Sant`Emiliano, beautiful beaches like the Baia dei Turchi and that of the Alimini Lakes.
In the area of ​​Otranto, a little further south, are other towns and villages that are worth discovering and experiencing, like Castro, with its medieval castle perched on high ground, the refined Santa Cesarea Terme much loved by those who practice spa treatments, Tricase Port, or, to the north, Torre dell`Orso, San Foca, Roca, Torre Sant`Andrea and many pretty villages in the hinterland and Grecìa Salentina.