Loading...
Destination Bari
Select your preferred destination on the map of Puglia or search for the area or location. Discover what you can visit during you exit holiday.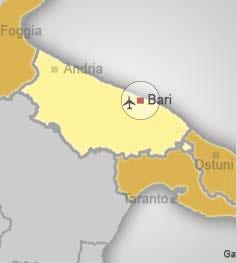 The area of ​​Bari does not end with the modernity of the metropolitan city and the liveliness of the historic center, the cult of St. Nicholas that every year brings millions of faithful, the port and the airport that make it the true gateway to the East for Europe, cultural initiatives, shopping in the stores of the big names and the gastronomic tour of focaccia and raw fish.
The Bari area is much more. The beautiful towns on the Adriatic Sea like Polignano a Mare and Monopoli, enchanting and unique villages in the world such as Alberobello with its UNESCO heritage trulli, impressive cathedrals, legendary places such as Castel del Monte, long-limbed steeples pointing skyward, and the still intact and authentic nature of the Murge, the ravines and the caves, the museums and the parks.
What to see and do during the holidays in the Bari area? There is so much to see, visit, explore during the holidays in Puglia in the area of ​​Bari. To name a few you risk to harm others: in addition to the most popular destinations and attractions, there are every year rich calendars of initiatives for those who love culture and popular traditions. Puglia is all a show!