Loading...
Destination Brindisi
Select your preferred destination on the map of Puglia or search for the area or location. Discover what you can visit during you exit holiday.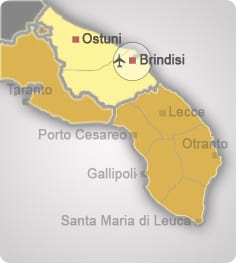 The city of Brindisi has always been a crossroads of peoples and cultures. It links its image to the port, to the Via Egnazia, to its almost hidden treasures, little known, perhaps because of its hinterland, the bewildering beauty of the Valle d`Itria, the pristine nature of its coastline. Who knows.
Yet spending the holidays in the area of ​​Brindisi reserves many surprises. Starting from the city, with its archaeology, its museums and its ancient churches, the Roman columns of the Appian Way that lie at the top of the staircase that slopes towards the seafront, and the historic center in its complex of small houses, palaces and streets.
And then the spearheads of this area: the Valle d`Itria with its olive groves, vineyards, castles and towers, and its most beautiful cities surrounded by quiet and greenery, such as Ostuni, Carovigno, Cisternino, well known also for the food and wine tradition. Nature is not far behind, both on the sea, with the protected marine area of ​​Torre Guaceto, and inland, with the Selva di Fasano.