Loading...
Destination Gallipoli
Select your preferred destination on the map of Puglia or search for the area or location. Discover what you can visit during you exit holiday.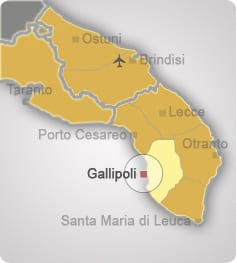 You say Gallipoli, you said everything. Everything you could wish for during a holiday in Puglia, the Gallipoli area can give it to you. Art and history are all there, the sea offers not only long and golden beaches and crystal clear waters, but it is also a source of daily work for the fishermen, who have always been the true soul of the old city, that perched on the island.
Gallipoli over the years has been able to win hearts, has modernized, has become fashion, has opened up to youth tourism as well as that of luxury, gay and lgbt friendly tourism, music lovers, nightlife, night clubs, beach clubs, maintaining its charm intact. The Gallipoli firmly hold the values ​​of all time: faith, culture, folklore, joy, rituals and traditions.
And the surrounding area is not far behind, makes it the perfect setting. The beautiful greenhouse of San Mauro that dominates the hinterland and the sea, the cliffs on the south coast of the Gallipoli area, the beautiful city of Nard˛ with its baroque historic center and its coastline that culminates in the pristine nature of the Parco di Portoselvaggio. In short: in the Gallipoli area you never get bored.